Mon Aug 06 14:29:04 UTC 2018
Sleep questions DONE
Weight DONE
Tickler DONE
Physical Inbox DONE
YNAB DONE
Email Inbox DONE
Calendar DONE
Trello SKIPPED
JIRA SKIPPED
Calorie Plan DONE
Fill timeblock DONE
Slack DONE
Digitize hand-written notes N/A
Review last year N/A
Review last month DONE
Review last week DONE
Review yesterday DONE
Review the Day SKIPPED
Rotate password SKIPPED
Email @Priority SKIPPED
Mon Aug 06 14:29:28 UTC 2018
Morning sleep questions:
Do you remember your dream?

I only remember that I had a dream.

What time did you get into bed last night?
What time did you turn everything off and try to fall asleep?
How long did it take you to fall asleep?
Did you wake up during the night? How often? How long were you awake total?

0200: 5 minutes
0500: 10 minutes

What time was your final awakening this morning?
What time did you get out of bed?
Did anything unusual happen yesterday that might have affected your sleep? (illness, disturbances, emotional stress, etc.)

OpsLead pages at each wake-up time

What is the total amount of time you slept last night in hours and minutes? (best estimate)
Did you take any medication that might have affected your sleep? What? When?
Evening sleep questions:
Did you nap today? How many times? When? How long?
Did you consume any medicine that you do not take on a daily basis? What? How much? When?
Did you have any caffeinated or alcoholic beverages today? What? How much? When?

@0900 15 mg caffeine (Brew Dr Kombucha)

Please rate your average sleepiness today on a scale of 1 - 10. (1 = wide awake, 10 = very sleepy)
What time did you start blocking blue light?
Mon Aug 06 14:30:53 UTC 2018
Weight:
@0700: 210.4 lbs
@1800: 210.4 lbs
Mon Aug 06 14:44:40 UTC 2018
Protein @0750:
Soy protein: 110
Banana: 100 (210)
Breakfast @1000:
Jumpstart Monday: 600 (810)
Ripple pea milk: 100 (910)
Plum: 100 (1010)
Brew Dr Kombucha: 60 (1080)
Lunch @1200:
Carrots: 20 (1080)
Hummus: 150 (1230)
Ripple pea milk: 50 (1280)
Protein @1500:
Pea protein: 100 (1380)
Banana: 100 (1480)
Dinner @1800:
Protein @2100:
Mon Aug 06 14:46:07 UTC 2018
Time (PDT)
Intention
Revision 1
Revision 2
0000
SLEEP
0030
SLEEP
0100
SLEEP
0130
SLEEP
0200
SLEEP
0230
SLEEP
0300
SLEEP
0330
SLEEP
0400
SLEEP
0430
SLEEP
0500
SLEEP
0530
SLEEP
0600
SLEEP
0630
Laying in bed
0700
Morning routine
0730
Pomodoro: Planning
0800
Walk to work
0830
Start of work routine
Talking with workmates
0900
Pomodoro: JIRA
Stretching
0930
Pomodoro: JIRA
Pomodoro: OpsLead
1000
Data Management standup
1030
Pomodoro: JIRA
1100
Pomodoro: JIRA
1130
Buffer
Working without starting pomodoro
1200
Lunch
Working without starting pomodoro
1230
Lunch
1300
Pomodoro: JIRA
Pomodoro: OpsLead
1330
Pomodoro: JIRA
Pomodoro: OpsLead
1400
Seattle Prodeng Standup
1430
NAP
1500
Pomodoro: JIRA
Protein
1530
Pomodoro: JIRA
1600
Pomodoro: JIRA
Pomodoro: Bugfix
1630
Buffer
Pomodoro: JIRA
1700
Run home
Walk home
1730
Stretching/Shower
Walk home
1800
Eating
Stretching/Shower
1830
Pomodoro: Weekly Review
Eating
1900
Pomodoro: Weekly Review
Discussion
1930
Pomodoro: End of day review
Discussion
2000
Time with Wife
Gaming: Overwatch
2030
Time with Wife
Gaming: Overwatch
2100
End of day routine
2130
Winding down
Pomodoro: End of day review
2200
SLEEP
2230
SLEEP
2300
SLEEP
2330
SLEEP
Mon Aug 06 14:51:59 UTC 2018
Last week, I got word that I needed to get more work done at work. It was accurate, I think, and I've stepped it up already. Feeling pretty good about it. Sad I needed the forcing function, but glad that the outcome so far seems rather positive.
Tue Aug 07 04:31:27 UTC 2018
End of day review.
Sleep questions DONE
Weight DONE
Tickler DONE
Physical Inbox DONE
YNAB DONE
Email Inbox DONE
Calendar DONE
Trello SKIPPED
JIRA SKIPPED
Calorie Plan DONE
Fill timeblock DONE
Slack DONE
Digitize hand-written notes N/A
Review last year DONE
Review last month DONE THIS MORNING
Review last week DONE THIS MORNING
Review yesterday DONE THIS MORNING
Review the Day

What have you been doing at work? DONE
How's climbing going? DONE
How're personal projects going? DONE
Are there any insights you had today that are worth writing down? NO
What have you been reading? N/A
What have you been listening to? N/A
What have you been watching? Overwatch vids

Rotate password SKIPPED
Email @Priority SKIPPED
Tue Aug 07 04:42:51 UTC 2018
There was no post last year, but I remember what I did, because it was the day before I moved to Seattle. I woke up in Salt Lake City, where the wife and I had stopped by during our moving trip from Pittsboro, Indiana to Seattle. We have friends who live in the area.
We left around noon and did a 10 hour drive to Vancouver, WA, where we had another set of friends to stay with.
It was a solid day.
Tue Aug 07 04:47:07 UTC 2018
Today, I got word that my work productity is looking good, and if I stabilize here it'd be solid. I hope to make some more progress on productivity, but was really happy to hear that. I also managed to hit my minimum pomodoro amount at work today (8) even with distractions and working without remembering to reset pomodoro.
Oh, speaking of pomodoros, look at what my mentee got me, Stephan: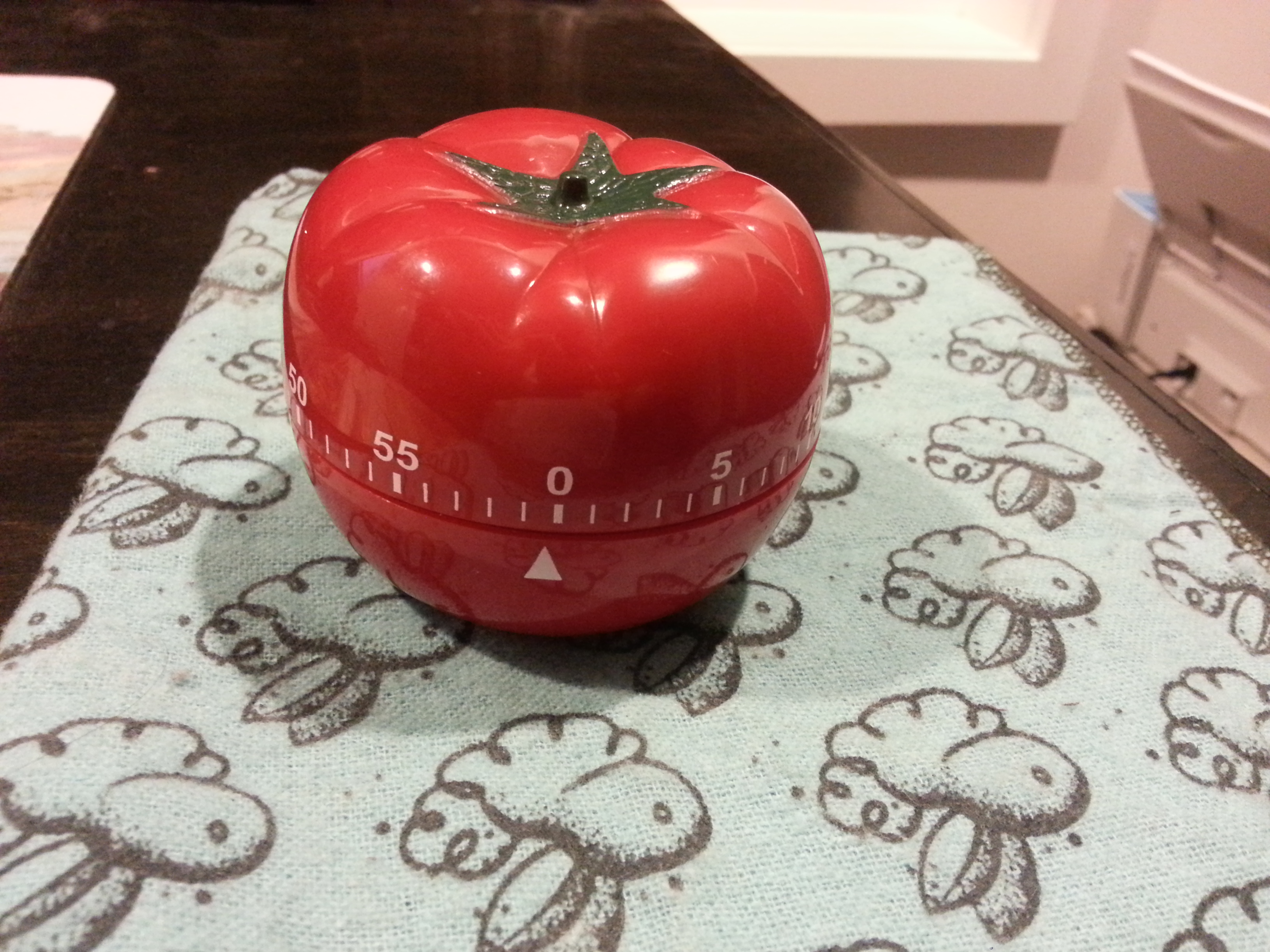 I tried it once at work and it felt like it could be too distracting, but at home I think it's perfect because I often don't want to wear my headphones. I'll still do the online one, so that I log it automagically, but this is cool.
It's at 0 because it's time to stop.
Skipped climbing today due to last day of OpsLead. Will go tomorrow morning (especially since travel will prevent me from going Wednesday).
No personal projects until after Quakecon.